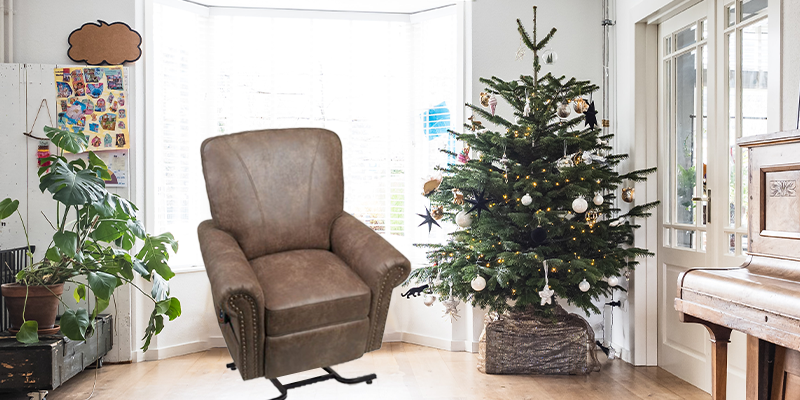 As someone ages, their mobility will slowly start to decrease and simple tasks like getting out of a chair become difficult. This can easily be solved by investing in a lift chair. There are many benefits that a lift chair can provide for not only those who are losing their mobility but also those who are taking care of them. Continue reading to find out a few reasons why a lift chair is a good option!
Creates Independence
Many elderly people want to continue to live in their homes as they age and not be sent to a nursing home or assisted living center. Lift chairs allow the elderly or those who have limited mobility to stand up and sit down with ease and without the assistance of another person. This, in turn, allows them to continue to have the independence they want and gives their caregivers peace of mind knowing they are safe in their chairs.
Reduces the Risk of Injury
Unlike other furniture that may be too low to the ground for someone with limited mobility, a lift chair is adjustable to make sure that it is at a comfortable height. This feature makes it so elderly people or those with limited mobility do not have to risk straining a muscle or falling just to sit down or stand up. Lift chairs not only decrease the risk of injuries to those who use it, it also decreases the risk of injuries to the caregivers who are taking care of them as the caregivers will not have to bend over so far to help them get in and out of their chair.
Provides Comfort
Lift chair recliners come with a wide range of features such as a footrest, backrest, and some have built-in areas of storage. A backrest and footrest provide comfortable resting positions in case the user needs to adjust the lift chair to make it more comfortable to read or watch TV in, while the built-in storage makes it so all the important items, such as TV remotes or magazines, are within easy reach.
Allows for Easy Transfer
As a caregiver, transfers can be difficult as the constant lifting and lowering of someone can take a toll on one's body. By having a lift chair, it will make it so there is not so much strain on the caregiver, and no one gets hurt. Not only does a lift chair make it less stressful for the caregiver who is doing the transfer, but also the loved one who could be stressed out about a possible injury.
Adding a lift chair into one's home can be one of the best investments. It provides a plethora of benefits and will make aging in the comfort of one's home easier and safer. When it comes to picking the right one, the options are endless. Shop the options we have from our several series and dozens of models to choose from or contact us for more information. We are excited to hear from you!