Treating You Like Family
Merrick Surgical Supplies & Home Care is New York's premier provider of home medical equipment and supplies and the area's largest lift chair dealer. We carry a vast inventory of top-notch products including lift chairs and scooters from trusted brands such as Golden Technologies and luxury hospital beds from Med-Mizer and Flexabed. This locally owned and operated business has been serving the needs of our customers through experienced, empathetic and extremely dedicated care for over 10 years! Whether you're recovering from an injury or just want to improve your day-to-day inconveniences, Merrick Surgical Supplies & Home Care offers many services to help you get there.
---
Age Better with the Personalized Customer Care that Merrick Brings
As Baby Boomers have aged and become seniors themselves with parents that are in their seventies, eighties, and nineties, affordable medical care has become a priority. This includes medical supplies that can enhance comfort and health and fulfills the needs of people that require assistance in walking, sleeping, bathroom needs, and even just rising out of a chair.
The staff at Merrick Surgical Supply are Baby Boomers ourselves that understand this growing demand for our products. We realized that business as important as our own needs a storefront where people can find comfort in driving themselves to and touching the products while being able to talk to a reliable person.
Without being a "chain" like Walgreens or CVS, Merrick Surgical is the "old fashioned" approach to an industry where service, knowledge, and community dedication is paramount and people recognize this. Elders want custom care rather than the convenience store shelves where they must shop without guidance to find the products they need.
That custom service with the human element to it, which most large businesses today are missing, is what Merrick Surgical has brought back. From the curbside attention from our front door to help our customers get in and out of their car to the deliveries and house calls we make to help assemble products and train customers and caregivers on how to use them. Find out more about our unheard-of level of care from our customers themselves by reading our testimonials or call us at 516-378-0119.
---
Merrick Surgical Supplies Receives Merchant Award of the Year Award, 2013 in Nassau County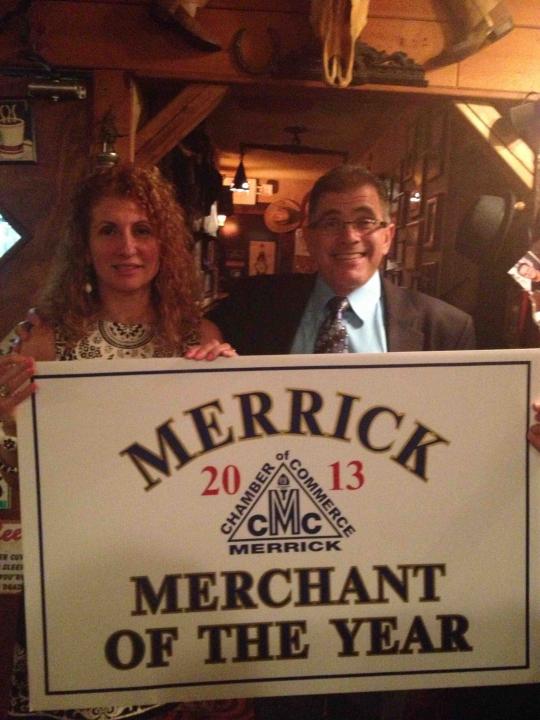 Merrick Surgical Supply was awarded the Merchant of the Year (2013) Award by the Merrick Chamber of Commerce. Andra and Leo Levine, the owners and principals of Merrick Surgical along with Armando D'Accordo, received the Merchant of the Year Award and the Professional of the Year Award respectively.
The award for these distinctions is voted on by the local community of Merrick, NY and much of the criteria is based on the quality and care of service that our business provides. Deidre Boyle is a local Merrick resident and stated, "This service is so very important to keep in our community. Please let them know we appreciate them." She was one of many that nominated Merrick Surgical for Merchant of the Year 2013.
There were many kind remarks and testimonials from local customers of our surgical and medical supply store. George Assmus stated that Leo Levine comes out to his car to assist him in getting into the store, while Mark Freedman and his wife are ecstatic about the way that Merrick cares for them every time they are there. A throwback to a time when house calls were what doctors and physicians were once known for, Merrick honors that tradition by going the extra yard to be helpful, meaningful, and special to our customers.
One of the Chamber Board members, Arlene Gregory, mentioned that Leo Levine is now a chamber board member where he is making an important contribution to the community. Merrick was forced to relocate when Synergy came into the area and it was noted that this event could have pushed Merrick Surgical out of town, but we chose to remain and keep our local presence in a community that truly values our presence.
Some other professionals and businesses were recognized as well, but the top honors were given to Merrick Surgical for the merchant portion.
---
Comfort. Recovery. Satisfaction.
With Merrick Surgical, you're the "why" in our business. We focus on:
Providing superior service to all of our customers over the phone or in person!
A staff that is comprised of experienced and knowledgeable individuals who are experts in all products that we carry
From our customer service representative and repair technicians to our owners, you've got a team working for you that you can trust
If you have any questions about our products or services or would like to speak with one of our team members, we encourage you to give us a call or contact us online.