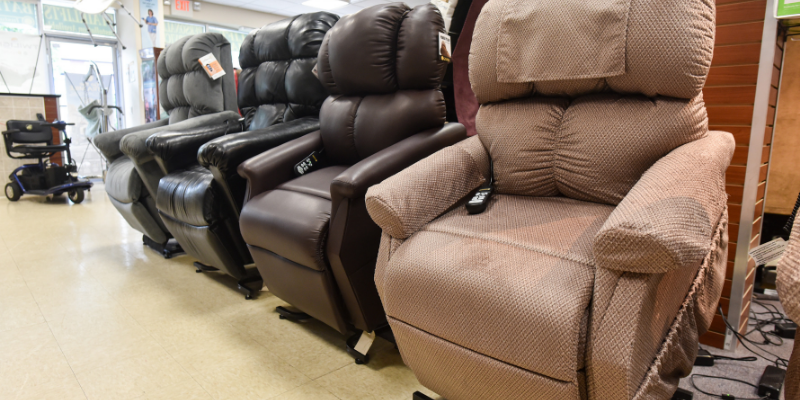 Get around your home on your own terms. There are many different types of lift chairs that can provide the comfort you deserve with the functionality you need. Here are some of the favorite models that we carry. Imagine which one you can see yourself in!
Capri
You can have an excellent chair without paying a high price. The Capri model offers firm lumbar support with dependable lift and recline. If you like the rounded style of furniture, this model is for you.
The Comforter
This chair is known as "golden" for a reason. It comes in five different sizes for everyone to be able to enjoy. Unlike most classic recliners, the arms are designed to be able to grab them with ease. It's truly a chair fit for a king or queen. Some favorite features on this "throne" are: a full napper position, terrific lumbar support, ease of movement and exceptional comfort.
Oxford
While the Oxford isn't meant to be a primary chair in your home, it can give you an opportunity to have a secondary chair in another room in your home, like an office or den. Its style is soft with the suede fabric and distinguished in design. Many love the ease of use with the two-button hand control and the easy access battery backup system. It can recline into the "full napper" position, so you can use it for those great afternoon naps.
Savannah
All of the chairs in our signature series are made with unique needs in mind. The Savannah is great for those who need a lift chair in a tight space. It doesn't need a lot of room behind it to recline fully. Because of its smaller design, the suggested height limit is 5'3'' tall. The fabrics are incredibly soft velvet with a few different colors to match any color scheme.
Cloud
This series is an altogether showstopper. The Cloud itself is the most comfortable chair you will likely ever sit in. It's great for any time of day or night and has the lower back support that people seek. One thing the Cloud is certainly not lacking is softness.
From picking out all of the features you want and don't need, and deciding on a style and color, we understand choosing a lift chair can be overwhelming. Stop in or give us a call, so we can guide you to the lift chair of your dreams!