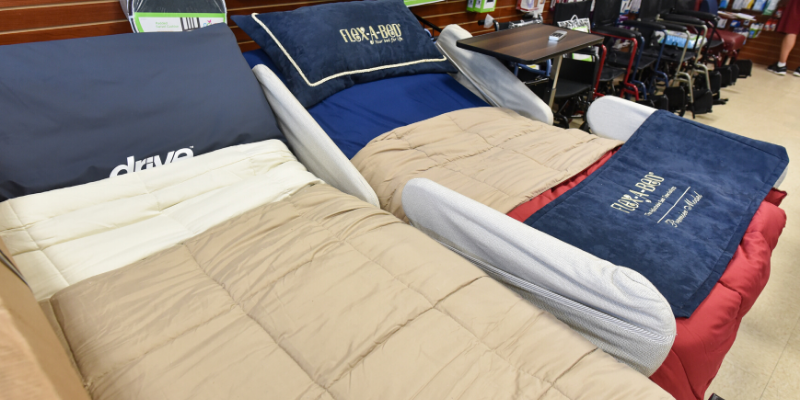 If you spend your nights tossing and turning to get comfortable, it's time to rethink what bed you sleep on. The Flexabeds we offer adjust to fit your body and provide you with the comfort you desire while sleeping. We offer four kinds of Flexabeds: The Hi-Low, the Value Flex, the Premier and the Adjustable Bed Base Only. Are you curious about which bed is right for you? Keep reading and we'll make it easy for you to decide.
Our Flexabeds
Not only can this bed be raised and lowered vertically, but it can be done with the simple and convenient touch of a button. The Hi-Low bed is ideal for those in a home healthcare or assisted living environment. Continue sleeping next to your loved one by checking out the dual king option. This is a luxury alternative to having a hospital bed right in your home!
Looking for something affordable but still hand-crafted and high quality? The Value Flex is perfect for those living on a fixed income. When you use the Value Flex, you'll be amazed at just how refreshed and energized you feel when you wake up. It provides ultimate comfort and comes in twin, full, queen, dual queen and dual king.
This luxurious bed can be fully customizable to fit your specific needs. High-tech features such as the dual timed massage and hundreds of built-in configurations provide you with ultimate comfort and satisfaction. The massage feature offers quiet wave and pulse technology for your back and legs – what more could you want in a bed?
The base your bed rests on is just as important as the bed itself. This hand-crafted base adjusts to fit your body so you can sleep in whatever position is most comfortable. If you have questions about warranties and/or service, the hands-off service policy allows you to call the factory directly to get your questions answered.
White Glove Service with Flexabed Deliveries
We are committed to taking care of you and providing the best service possible. White glove delivery is offered to each customer, meaning we deliver your product as well as empty the room, set it up and make sure everything is working. We don't just stop there - we'll always follow up to make sure you and your new equipment are doing well to give you the support you deserve.
The benefits of our Flexabeds are numerous, and we hope you get the chance to experience all that we offer. To learn more about our Flexabeds, click here or contact us to get more information. We care about you and your rest, which is why we offer the Flexabeds to make your night as comfortable as possible.