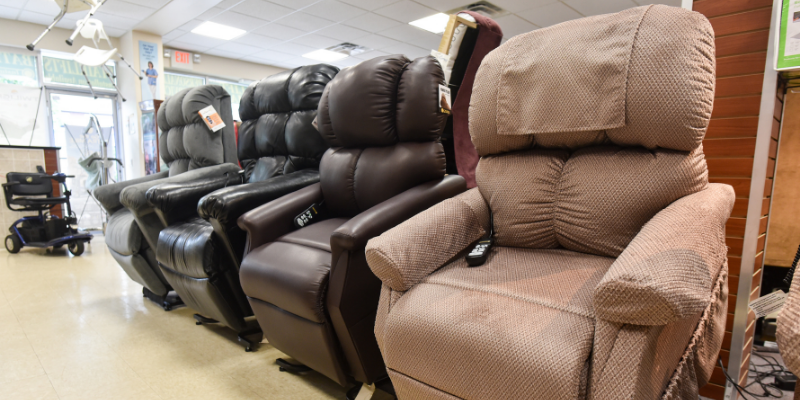 If you've been looking into buying a lift chair, you've probably heard of the brand "Golden Technologies." Why is it such a popular and highly praised brand, and why are all the lift chairs we offer by Golden Tech? We've created a list of reasons why these lift chairs have such positive reviews and a great reputation.
Quality is a Priority
One of Golden Tech's biggest priorities is providing you with the highest quality lift chairs on the market. Not only do they take pride in the durability of the fabric offered, but also the rigorous quality control of each chair's structure. What makes the product so great is the fact that all the components the chairs are made from are high in quality, providing you with minimum maintenance.
Wide Variety to Choose From
Golden Technologies has something for everyone. Whether you're looking for a chair with certain accents or a plush biscuit back style, there's a chair out there for you. There are so many features, styles, colors and fabrics to choose from when customizing your chair. Not only is there variety in the chair's appearance, but there are different sizes and structures to choose from depending on what position options meet your needs.
Reputation Matters
Golden Technologies doesn't take its reputation lightly. When it comes to customer service and reliability, they're top-notch. Take it from these Merrick Surgical customer reviews! Read through them and you'll find the many positive reviews of those who have purchased Golden Tech lift chairs from us before.
Great Health Benefits
It's no secret that lift chairs have tremendous health benefits for elderly individuals. Some of the many health benefits include:
Relief of pressure sores

Reduced edema

Safer relaxation and napping time

Reduced risk of injury

Greater independence and mobility
Built to Last
Golden Tech lift chairs can be comfortable, easy to use and stylish, but if they're not durable then none of that matters. That's why their chairs are crafted with lasting durability so you can enjoy your new chair for many years to come. Plus, with the help of our in-home repair services, we are here to help you with maintenance and replacements for your lift chair down the road.
Incomparable Comfort
Golden Technologies is known for perfecting comfort. Customers describe their lift chair experiences as blissful, relaxing and optimal for resting. They're relaxing in every position, whether you're laying down, watching TV or standing up. It's hard to question these facts when they're known as the world's most comfortable recliners!
Our Commitments and Promises to You
At Merrick Surgical, we guarantee that every lift chair we sell by Golden Technologies is:
Backed by the industry's best warranty

Handcrafted in a state-of-the-art facility

Smooth, quiet and secure while being used

Designed for the comfort and safety of elderly individuals
Golden Tech's reputable and highly praised lift chairs won't let you down. If you have any questions or are interested in looking through some options we offer, feel free to contact us. We're here to help you through each step of the decision process!