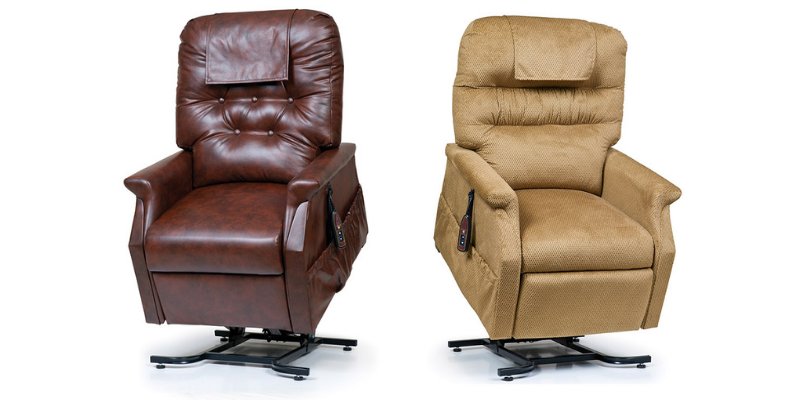 You've decided it's time to purchase a Golden Technologies lift chair, but now it's time to choose a fabric. The options are seemingly endless, so we're here to break it down and help you decide what's best for you. Whether you're looking for something soft, spill-proof or long-lasting, there's a fabric choice for your needs and wants.
High-Performance: Alta™ Fabric
This fabric is the ultimate choice if you're looking for something heavy-duty. With a total liquid barrier and antimicrobial protection, your chair will easily repel liquids and prevent stains. Less stains makes for a more durable fabric that won't require harsh cleaning agents to get clean. . If you plan to get heavy use out of the chair, the High-Performance fabric is a great choice.
Modern: Easy Living Fabric
Not only is Easy Living fabric incredibly soft, but it brings a modern, updated look that will match well with your home décor. The Stain Defense coating allows for increased stain resistance, so you can be worry-free while relaxing.
Simple: Porto Fabric
One of the best features of this fabric is the exclusive SofTouch™ coating which allows for a luxuriously soft feel. Just imagine, sitting down after a long day to relax in a chair covered in this plush fabric. It also has a subtle pattern so it's great if you're looking for something more simplistic.
Luxurious: Brisa® Fabric
Finding a leather chair that's also soft and breathable can be tricky, but the Brisa® fabric is just that. There are various colors to choose from, plus the fabric is scratch-proof and easy to clean. If you're looking for a leather chair that won't stick to you or look worn out, the Brisa® fabric is what you need.
Suede Alternative: Microsuede Fabric
Natural suede leather is beautiful but comes with some drawbacks. The Microsuede fabric is the perfect alternative but is long-lasting, stain-resistant and spill-proof. It's 100% vegan and comes in two beautiful color options – Bourbon and Smoke.
Imitation Leather: Urethane Fabric
For a realistic alternative to leather, the Urethane fabric is a great choice. It also has a polyurethane coating to make the fabric water-resistant, lightweight and flexible. Since it's a leather alternative, it stays soft instead of cracking or peeling.
Soft: New Imagine Fabric
While all the fabrics by Golden Technologies are soft, the New Imagine fabric takes comfort to the next level. It features their exclusive SofTouch™ and Stain Defense coating, making it stain resistant while remaining soft to the touch.
Don't let the number of fabric options overwhelm you! Start by deciding what your top priority is, then choose a color from there. If you need more information or help, feel free to contact us and we'd be happy to assist you!