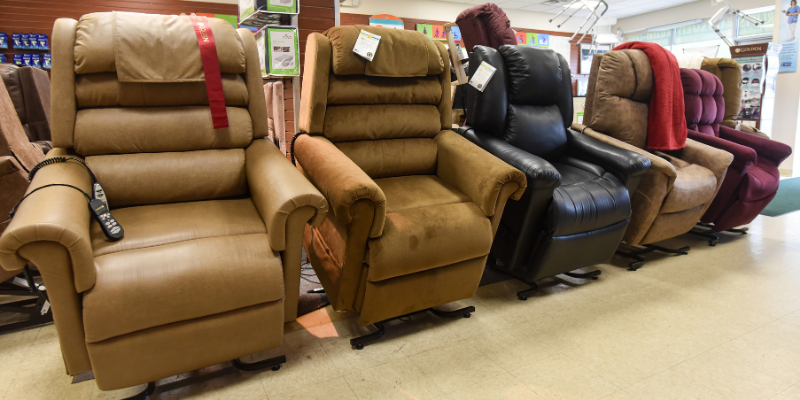 Buying a lift chair isn't an everyday, normal purchase — it requires some thought and consideration before a decision is made. Whether you've decided on buying a lift chair and just aren't sure which one or you're still on the fence about getting one at all, this blog is for you. Keep reading to find answers to your questions about benefits, delivery, payment, repairs, services, specific products and more.
Benefits & Use Questions
1. Who is a lift chair ideal for?
If you or your loved one have a hard time going from a seated position to standing, lift chairs are ideal for you. They can help those who have problems balancing or have limited mobility as they give you a boost when standing back up. Not only are they great for safety, but they provide ultimate comfort for your relaxation time.
2. What if my lift chair eventually needs repairs?
Are you worried about needing repairs on your lift chair down the road? The good news is—we're dedicated to improving our customers' experiences and quality of life, which is why we provide in-home repair service. Whether you're a brand-new customer or have been one for years, we'll help you with repairs regardless!
3. What kind of health benefits can I expect when owning a lift chair?
The health benefits that using a lift chair can bring about are countless. One of the biggest benefits you can expect is reduced edema, which is a common issue for aging individuals. Your legs can start to swell as you age which can be painful and make mobility more difficult. By raising the leg rest on your lift chair, you can get the fluid moving back to your heart and reduce edema.
Another health benefit is the relief of pressure sores by adjusting your position easily. The best way to avoid pressure sores is to move around as much as possible, but with limited mobility that's not always easy. Lift chairs allow you to stand up, change positions and relieve pressure to avoid those sores.
Delivery & Payment Questions
1. What is white glove delivery?
Instead of dropping off your new lift chair at your door and leaving, we offer white glove delivery to every customer. This means we'll help make space for it in your desired room, set it up and ensure that it's working properly before our team heads out. All you need to do is sit back, let us set it up and then enjoy the results!
2. How do I start the payment process for my lift chair?
The first step to purchasing your lift chair is to request a product order. All you need to do is fill out this form with some basic product and patient information and we'll get back to you to continue the payment process.
3. How can I learn how to use my new equipment?
We don't just deliver your chair, set it up and hand you a user's manual. Our team of industry professionals will instruct you or your loved one on how to specifically use your lift chair. We want you to feel comfortable and secure with your new equipment, so we'll guide you and make sure you know how to use it before we leave.
Specific Product Questions
1. What kind of fabrics do you offer?
When you order a lift chair from us, you'll have a choice of what fabric you want. These fabrics vary in color, design and texture and there are lots of options to choose from so we can fit your personal preferences. Some of the signature fabrics we offer include styles like Coffee Bean, Sandstorm, Copper, Hazelnut, Bamboo and many more. Click here to see these fabrics for yourself!
2. What positions are the lift chairs capable of?
Depending on what lift chair you decide to go with, you'll have a wide range of different position options while you relax. Some of these positions include the TV Watching, Zero-Gravity and Trendelenburg positions. The best part is that you can switch between these various positions with the touch of a button.
3. How do I know the lift chair will be a good size for me?
Many of our lift chairs come in various seat sizes so you can find your perfect fit. The ones in our Comforter Series, for example, come in 10 different distinct sizes so you don't have to sit in a chair that's sized for someone else.
If you're looking for more reasons or opinions on if you need a lift chair in your life, take it from these customer testimonials. Do you have further questions about the chairs we offer? We're here to help answer those, too! Simply contact us and ask away – we're happy to serve you.