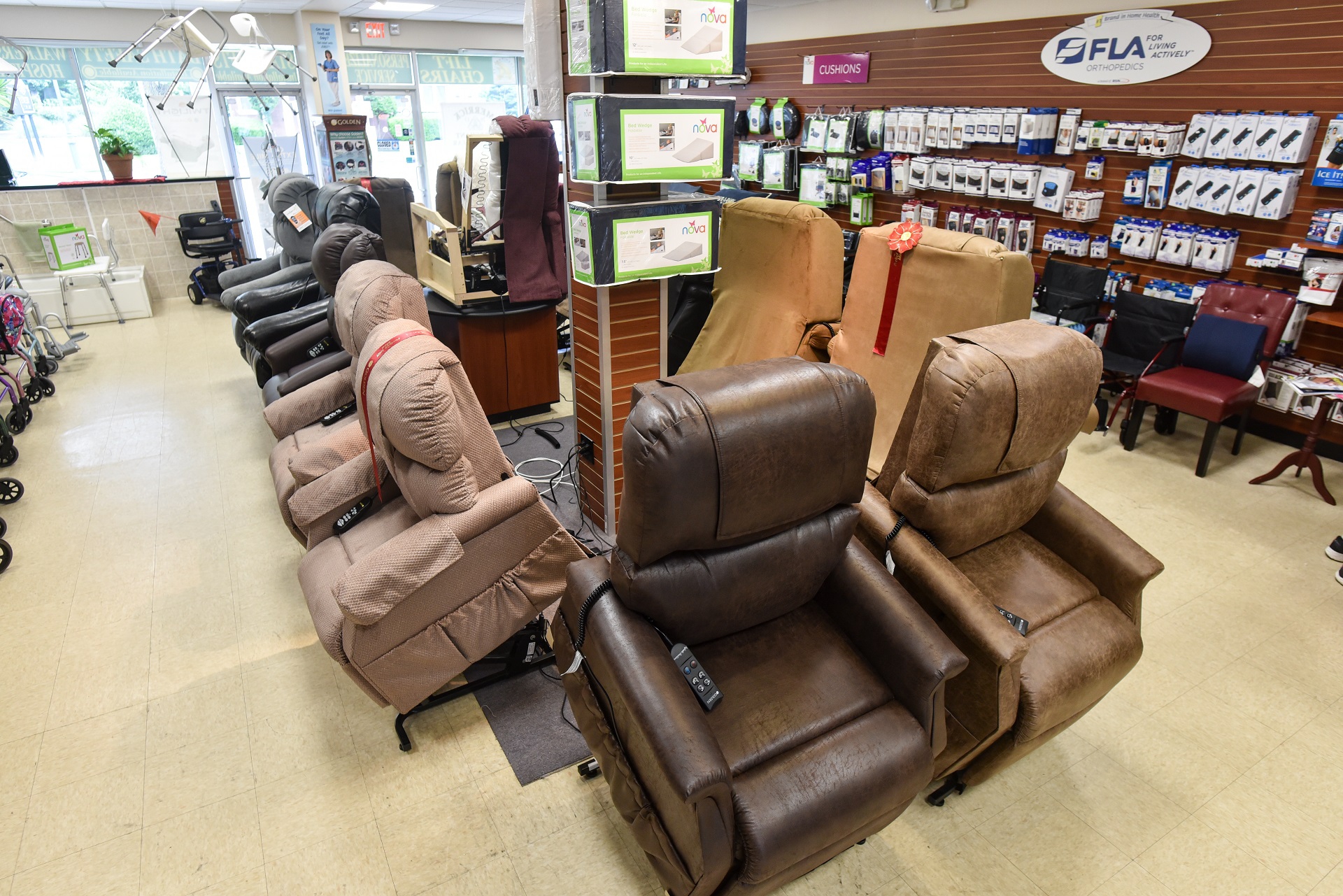 What Is a Lift Chair?
A lift chair is a device that will gradually lift the person to a standing position and it will similarly, descend the person into a sitting position. These chairs can also act as a typical recliner allowing you to lay back in them as well. There can be many different models with different features so it's important to know what you want when you're looking. You need to be properly fitted, as One Size Does Not Fit All when it comes to finding the lift chair for you. Each chair is made for a certain height and weight. Since you or your loved one will be spending a lot of time in the lift chair, you want to sit and try as many as possible before you invest in one.
Do Lift Chairs Keep You Safe?
The answer is yes. Lift chairs help keep both the user and the caregiver safe. The user won't hurt or strain themselves attempting to pull their weight up and out, and the caregiver doesn't worry about hurting their loved one, nor do they worry about hurting themselves at the same time. It's a win win!
A lift chair plugs directly into any standard outlet. It also features a backup power supply that is activated when the power goes out. Lift chairs are nearly limitless in style and comfort and can accommodate you whether you are 4'9" and weigh 85 pounds or if you're 6'5" and weigh 500 pounds. They're so versatile and can literally work for all ages and sizes!
Lift chairs offer many different reclining positions designed to relieve discomfort on pressure point areas or relieve back pain. They can recline completely flat and can be a wonderful place to sleep.
Who Benefits from a Lift Chair?
Many people can benefit from a lift chair, but these chairs especially benefit the elderly along with those who suffer from arthritis or limited mobility. People who struggle with stability or leg and back weakness love having the features of a lift chair. They are convenient, cozy, appealing and keep you safe. What's not to love?
Can Lift Chairs Help Promote Independence?
Yes! Lift chairs allow people to stay in their homes longer and live their lives safer. The impact extends past the physically impaired user. Families are impacted in the most positive way! If safety is a constant concern, let the lift chair take some of that burden off the caregiver. A person using a lift chair will function more independently and be happier that they don't need to rely on the caregiver ultimately allowing them to feel more independent!
Caregivers appreciate time saved and are able to take care of their other tasks as well as allow some more time to take care of themselves. Lift chairs, with their specially designed structure, are easy to operate. Hand controls are the key tool that prevents the injury! With the touch of a button, you can adjust the lift chair to any position you need.
Where Can You Purchase a Lift Chair?
Although online shopping is booming and can many times be convenient, we recommend you coming into the store to test them out in our showroom! Before making the investment, you should test different models and see what suits your needs best. Merrick Surgical Supplies & Home Care is the LARGEST Golden Technology Lift Chair dealer in the New York Metro area and also has the largest showroom to test these chairs out! If you're looking for the lift chair of your dreams, contact us or stop in for a visit.