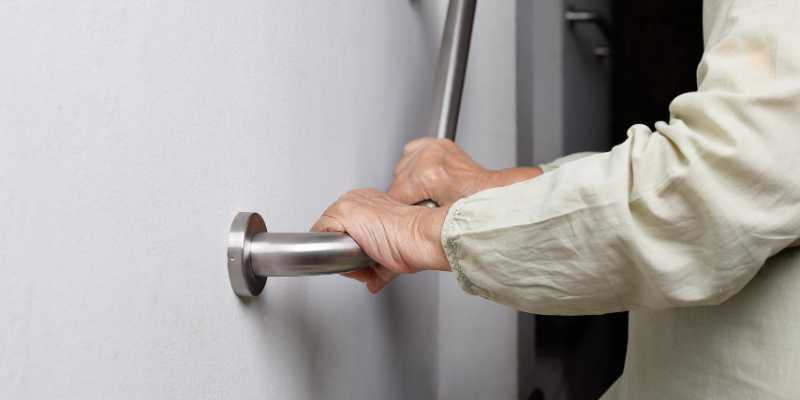 Whether you're preparing for a future of aging in place or have a loved one doing so now, we know safety is your top priority. Injuries at home are common in older individuals due to a lack of strength or mobility that increases the risk of falling if there isn't stand-by support. However, there are many benefits to aging in place, so we've outlined a few products and tips to help make home life safer for you or your loved one.
One of the most effective changes you can make at home to improve safety is installing grab bars, bath seats, toilet support rails and other bathroom safety products. Most senior falls at home occur in the bathroom, so having these products installed can make a huge difference. You can feel sturdier getting out of the shower or sitting on and standing up from the toilet, giving you balance and peace of mind.
2. Making Changes to Your Bed
You may have a standard bed at home which can make laying down and getting up a struggle. There are a couple of changes you can make to your bed in order to have a safer night and morning routine. One option is to install bed rails so, you have a better grip and are less likely to lose your balance. Another option is to get a new bed altogether, preferably the highly praised Flexabed. This bed is easily adjustable to fit your body shape to provide more comfortable sleep, but it can also allow you to raise and lower your head to prevent sudden back or neck injuries from laying down or sitting up.
3. Evaluate House Hazards
Do a thorough walkthrough of you or your loved one's house and get rid of falling hazards you may find. Some examples include throw rugs, dim lighting, clutter or extension cords. Consider using non-skid mats and brightening each room to make objects more visible to prevent falls from occurring in the first place.
4. Rethink Your Go-To Chair
What rocking chair, love seat or couch do you always go for when looking for a spot to relax? You may come to realize that the chair is slowly becoming more difficult to stand up from or sit down on. That's why investing in a lift chair can make a great difference in your home safety. With the push of a button, you can raise your chair for a boost while standing, recline back or put your feet up. This is a much safer alternative to struggling to stand with the possibility of losing your balance.
Not only is having a walking aid great for mobility purposes, but they make getting around the house much safer. Some examples of these mobility aids include:
There's no better time than now to make sure your home is as safe and fall-proof as possible. Our staff at Merrick Surgical is ready and eager to help you, so if you have any questions about the products we offer, feel free to contact us. We're here to guide you towards a safer aging at home environment!