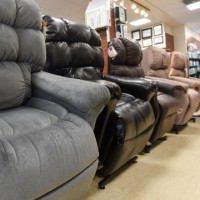 Someone in the family not comfortable in their recliners?

Does this person need help getting out of the chair? Are they no longer relaxed sleeping in a bed?

Have you looked at lift chairs?

No one has 25 American-Made certified to try?
Power Lift Recliner Chairs Make the Difference
We serve Greater New York, New Jersey and Connecticut. The success and the satisfaction of our customers have been built on our foundation of lift and recliner chairs. With six series and dozens of models to choose from, you will find the optimum combination of sizes, weight capacity, options and accessories. Rest assured, the chair that's just right for you incorporates the finest materials and most advanced technology, is assembled with attention to every detail and stands up to rigorous quality control. That's what makes Golden Lift Chairs the leader in our industry — and the choice of people around the world.
Lift Chairs for the elderly and seniors that seek assistance in mobility and simple tasks that can get them up from rest to standing or a walker or wheelchair provide our loved one's freedom and independence that is vital for so many.
At Merrick Surgical, we're on a continual quest to break the boundaries of comfort, convenience, performance and durability. Every lift and recliner chair is:
Handcrafted in our state-of-the-art facility in Pennsylvania.
Backed by the industry's best warranty.
Provides the smoothest, quietest and securest lifting system in power recliners.
Day after day, year after year, Golden is your first-class ticket to well-being.
Committed to quality lift chairs for the elderly.

Golden Flagship Dealer - Lift Chairs

Golden Flagship Dealer - Scooters