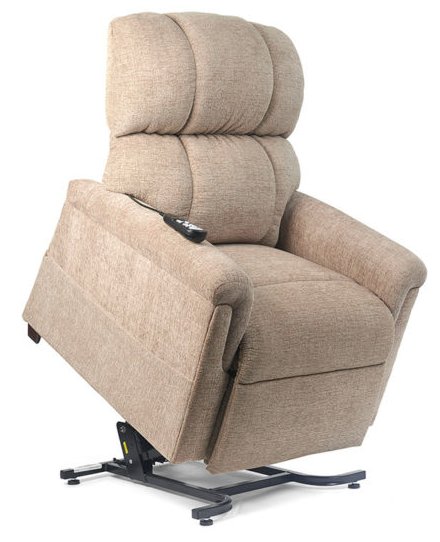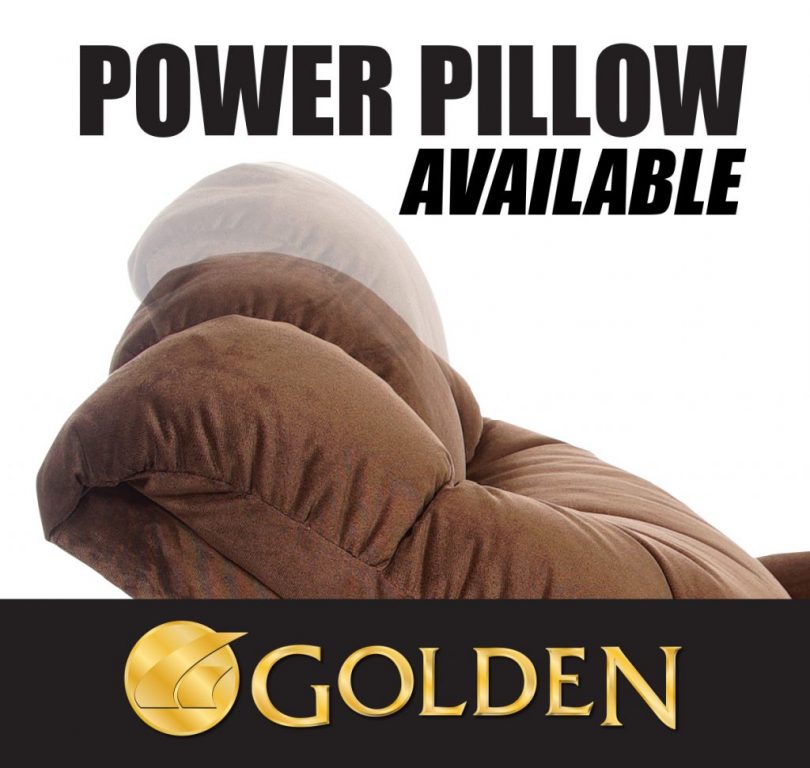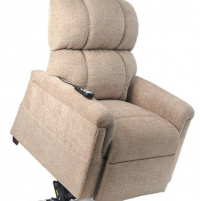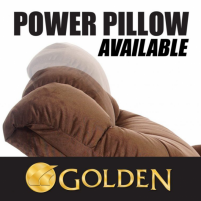 Golden's exclusive MaxiComforter series is now available in six sizes, including the all-new Tall and Extra Wide! The MaxiComforters feature a plush, seamed backrest with lumbar support, a soft, comfortable seat and our unique "grip rite" arm design. View more
MODELS: Junior Petite (PR505S), Small (PR505S), Medium (PR505M), Large (PR505L), Tall (PR505T) and 500 lbs. (PR505-M26)
Golden's exclusive MaxiComforter series is now available in six sizes, including the all-new Tall and Extra Wide! The MaxiComforters feature a plush, seamed backrest with lumbar support, a soft, comfortable seat and our unique "grip rite" arm design. Every MaxiComforter comes standard with our patented MaxiComfort Ultimate Recline Technology for possible spinal alignment, back pressure relief, and improved circulation.
Features
Plush, Seamed Backrest with Lumbar Support
Soft, Comfortable Seat
Unique Grip Rite Arm Design
Patented MaxiComfort Recline Technology
World's Only 2 Motor Power Lift and Recline Chair with Adjustable Active Seat Option
MaxiComfort Recline Options Include TV Watching, Zero Gravity, Sleep & Trendelenburg
Offering Autodrive with Programmable Memory Settings
Optional Power Pillow for Powered Head and Neck Comfort
Weight Capacity: 300 lbs or 500 lbs for the PR505-M26
Limited Lifetime Warranty; Wood and Metal
7 Year Warranty; Motor and Electronics
Fabrics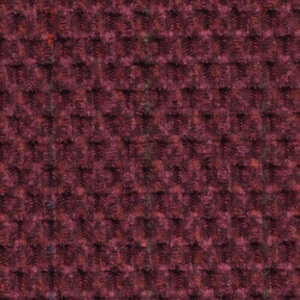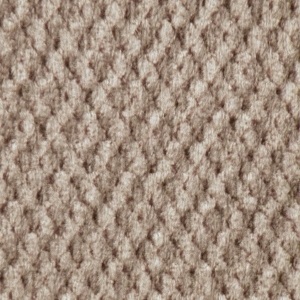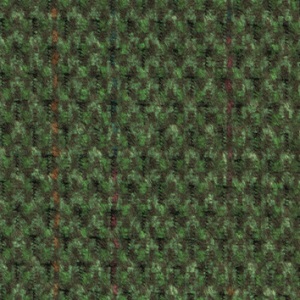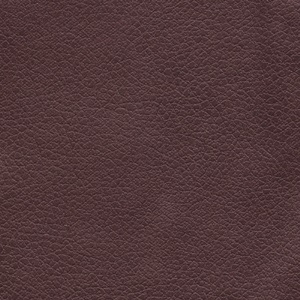 Standard options available for Quick Ship.
*Upcharge applies for Coffee Bean.
| | |
| --- | --- |
| PR505JP - Weight Capacity | 300 lbs. |
| PR505JP - Size | Jr. Petite |
| PR505JP - Back Type | Seam |
| PR505JP - Overall Width | 30.5 in. |
| PR505JP - Overall Height | 39 in. |
| PR505JP - Width Between Arms | 19 in. |
| PR505JP - Floor to Top of Seat | 18 in. |
| PR505JP - Seat Depth | 18.5 in. |
| PR505JP - Seat to Top of Back | 25 in. |
| PR505JP - Distance Required from Wall Reclined | 21 in. |
| PR505JP - User Height (suggested) | 5'0" & under |
| PR505S - Weight Capacity | 300 lbs. |
| PR505S - Size | Small |
| PR505S - Back Type | Seam |
| PR505S - Overall Width | 31.5 in. |
| PR505S - Overall Height | 40 in. |
| PR505S - Width Between Arms | 20 in. |
| PR505S - Floor to Top of Seat | 19 in. |
| PR505S - Seat Depth | 19.5 in. |
| PR505S - Seat to Top of Back | 25 in. |
| PR505S - Distance Required from Wall Reclined | 22 in. |
| PR505S - User Height (suggested) | 5'0" - 5'3" |
| PR505M - Weight Capacity | 375 lbs. |
| PR505M - Size | Medium |
| PR505M - Back Type | Seam |
| PR505M - Overall Width | 32.5 in. |
| PR505M - Overall Height | 42 in. |
| PR505M - Width Between Arms | 21 in. |
| PR505M - Floor to Top of Seat | 19.5 in. |
| PR505M - Seat Depth | 21 in. |
| PR505M - Seat to Top of Back | 27 in. |
| PR505M - Distance Required from Wall Reclined | 23 in. |
| PR505M - User Height (suggested) | 5'4" - 5'10" |
| PR505L - Weight Capacity | 375 lbs. |
| PR505L - Size | Large |
| PR505L - Back Type | Seam |
| PR505L - Overall Width | 34.5 in. |
| PR505L - Overall Height | 44 in. |
| PR505L - Width Between Arms | 23 in. |
| PR505L - Floor to Top of Seat | 20.5 in. |
| PR505L - Seat Depth | 22 in. |
| PR505L - Seat to Top of Back | 28.5 in. |
| PR505L - Distance Required from Wall Reclined | 24 in. |
| PR505L - User Height (suggested) | 5'11" - 6'2" |
| PR505T - Weight Capacity | 375 in. |
| PR505T - Size | Tall |
| PR505T - Back Type | Seam |
| PR505T - Overall Width | 34.5 in. |
| PR505T - Overall Height | 47 in. |
| PR505T - Width Between Arms | 23 in. |
| PR505T - Floor to Top of Seat | 22.5 in. |
| PR505T - Seat Depth | 23 in. |
| PR505T - Seat to Top of Back | 30 in. |
| PR505T - Distance Required from Wall Reclined | 25 in. |
| PR505T - User Height (suggested) | 6'3" - 6'8" |
| PR505-M26 - Weight Capacity | 500 lbs. |
| PR505-M26 - Size | Medium |
| PR505-M26 - Back Type | Seam |
| PR505-M26 - Overall Width | 38.5 in. |
| PR505-M26 - Overall Height | 42 in. |
| PR505-M26 - Width Between Arms | 27.5 in. |
| PR505-M26 - Floor to Top of Seat | 20 in. |
| PR505-M26 - Seat Depth | 21.5 in. |
| PR505-M26 - Seat to Top of Back | 28 in. |
| PR505-M26 - Distance Required from Wall Reclined | 23 in. |
| PR505-M26 - User Height (suggested) | 5'4" - 5'10" |
Plush, Seamed Backrest with Lumbar Support
Soft, Comfortable Seat
Unique Grip Rite Arm Design
Patented MaxiComfort Recline Technology
World's Only 2 Motor Power Lift and Recline Chair with Adjustable Active Seat Option
MaxiComfort Recline Options Include TV Watching, Zero Gravity, Sleep & Trendelenburg
Offering Autodrive with Programmable Memory Settings
Optional Power Pillow for Powered Head and Neck Comfort
Weight Capacity: 300 lbs, 500 lbs for the PR505-M26
Limited Lifetime Warranty; Wood and Metal
7 Year Warranty; Motor and Electronics
Customers Who Viewed This Item Also Viewed