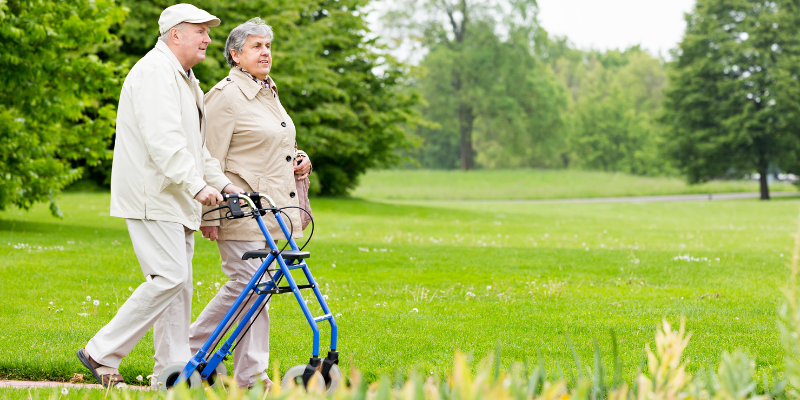 As time goes on, you may find yourself needing some extra assistance to get around. That's where mobility devices come in! Picking a mobility device that is right for you can be tricky, especially since there are so many to choose from. In this blog, we'll describe different options you can choose from to help narrow down your search.
Starting with the least assistive of the mobility devices, canes and crutches are a great help to individuals with instability and balance issues. By having an object to hold on to and redistribute weight, you can increase your base of support. Depending on what you prefer, canes differ in types of handles, heights, weights and more. You can use a quad cane, travel cane, wood cane, or a classic aluminum cane depending on your preference.
Walkers provide more stability to individuals with poor balance than a cane would. While they are more stable, they do require more effort when it comes to navigating around objects or going up and down the stairs. Just like canes, there are various kinds of walkers to choose from depending on your needs. Some options include 3-wheel walkers, knee cruisers, petite walkers, rolling walkers, or the classic folding walkers.
If you're looking for a cost-effective, low-maintenance mobility aid for either full-time or situational assistance, a manual wheelchair is always a great choice. Take your pick between lightweight wheelchairs for easy transportation, reclining wheelchairs for ultimate comfort, wheelchairs with detachable arms and footrests, or a simple transport chair. Manual wheelchairs are great for individuals who need extra mobility assistance when on the go but are still mobile enough to propel themselves around.
When it comes to scooters, the variety is seemingly endless. You can choose between heavy duty scooters, travel scooters, 3-wheel scooters and other options. Whether you need full-time assistance or just need something to get you from here to there occasionally, a mobility scooter is a great option. It requires even less work than a wheelchair does since you're getting around with the simple push of a button.
If you need a mobility device that provides full and complete assistance for you, a power wheelchair might be your best choice. Chairs like the Alant Sport from Golden Technologies provide you with both durability and style while taking you wherever you need to go. This is also a great choice if you're looking to travel longer distances, as you don't have to worry about propelling yourself like you would in a manual wheelchair.
Other Handicap-Friendly Products
At Merrick Surgical, our customer satisfaction is built on the success and foundation of our lift chairs. There are dozens of models to choose from ranging in price and style to fit your needs. Lift chairs allow you to go from a sitting to standing position efficiently and safely rather than pushing yourself up and risking injury. These lift chairs provide freedom and independence for many seniors.
Yes, you can have a high-quality and luxurious hospital bed right in your own home! The Flexabeds we sell are great for mobility purposes since you can raise and lower different areas of the bed with the touch of a button.
No matter what your mobility needs may be, we have the assistive devices to improve your quality of life. Rather than relying on others to assist you daily, the help of mobility devices can give you greater independence. Experience this freedom yourself by checking out these products or contacting us with any questions you may have!