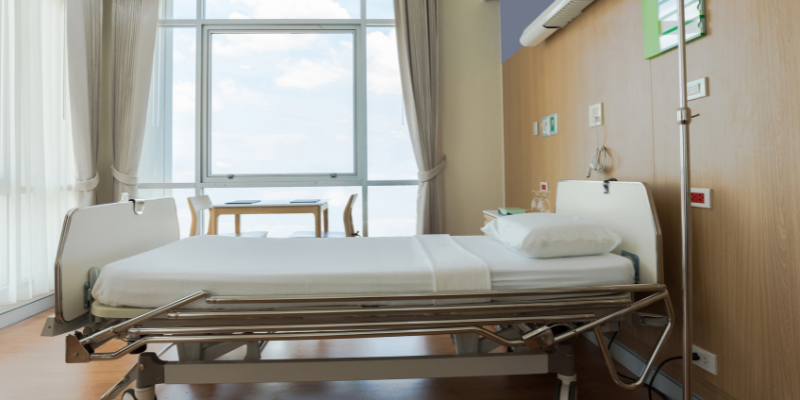 Hospital beds are used in the home setting by individuals who deal with medications, illness, and pain—all of which can get in the way of quality sleep. A hospital bed has many functions, from providing you with a more comfortable sleeping surface to keeping you secure within your bed at night.
In today's blog, we'll take a look at a variety of situations when a hospital bed is beneficial, including:
When a person needs medical care at home: A hospital bed can be used in a home setting to provide a comfortable and safe place for a person to receive medical care, such as wound care, intravenous (IV) therapy, or other treatments.
When a person has mobility issues: A hospital bed can be helpful for people with mobility issues, as it can be adjusted to a variety of positions to make it easier for them to get in and out of bed, change positions, and perform other activities.
When a person needs to be in a prone position: A hospital bed can be adjusted to a prone position, which is helpful for people who need to lie on their stomachs for extended periods of time, such as after surgery or to help with breathing issues.
When a person needs specialized bedding: A hospital bed can be equipped with specialized bedding, such as air-fluidized therapy beds or low-air-loss beds, which can help to prevent pressure ulcers and other skin injuries.
When a person needs to be monitored: Some hospital beds are equipped with monitors that can track a person's vital signs, such as heart rate and blood pressure, and alert healthcare providers if there are any changes.
Overall, a hospital bed can be beneficial for people for a variety of reasons. Whether it's keeping you safe and comfortable or providing you with a convenient place to receive medical care, a hospital bed can help you or your loved one live a quality life at home.
Different Types of Hospital Beds
Each person has a unique set of needs, which is why there are different types of hospital beds out there to suit those. The main three types of hospital beds that are available include manual beds, semi-electric beds and fully electric beds.
Manual Beds: These hospital beds are suitable for patients and caregivers who are physically capable of manually adjusting the height of the bed and raising and lowering the head and foot parts. They have a hand crank that is used in order to do so.
Semi-Electric: These beds feature an electric motor that raises and lowers the head and foot parts of the bed. The height of the bed still needs to be adjusted physically with a hand crank.
Fully Electric: Finally, a fully electric hospital bed can be fully adjusted using a remote control. This doesn't require a hand crank which makes it easier for the patient or caregiver to adjust it to their needs. This type of bed can have the capability to move into more positions, such as a tilt position.
Buy a Hospital Bed at Merrick Surgical
If you or a loved one are in need of a hospital bed, call your friends at Merrick Surgical! We have a wide variety of beds available, from popular Flexabed options to Med-Mizer hospital beds and various accessories. Check out our online catalog or give us a call for further assistance! If you're not finding what you're looking for on our website, we're here to help.