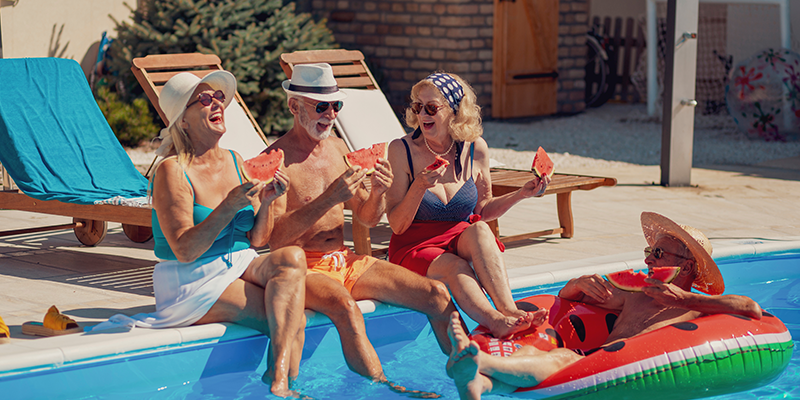 With the summer months approaching and the temperature rising, it is extremely important to take care of your body and take extra precautions when participating in outdoor activities. As we get older, the risk for heat-related health problems increases. Here are five summer safety tips for seniors, so that you can enjoy time outside and stay healthy!
1. Stay Hydrated
Staying hydrated is always important, but is especially important in the summer heat. The heat can cause extra or excessive perspiration, so it is essential that you drink more water than usual. Although sometimes it is difficult to drink extra water, having a schedule can be helpful and will allow you to track your water intake. Eating foods that are water-rich like watermelon can help with hydration as well.
2. Protect Yourself from the Sun
The UV index is extremely high in the summer months which means that sun protection is a necessity. The CDC recommends trying to stay in the shade as much as possible, wearing sunscreen, wearing a hat, and trying to wear clothes that cover as much skin as possible. Remember to wear your sunglasses, the sun can irritate and damage your eyes too.
3. Participate in Low Impact Activities
Staying active is important to promote good health for the present and the future - participating in minimal impact activities can keep you active while preventing injury. A few ideas for these gentle impact activities include swimming, going for a walk, doing puzzles and gardening. You can do any of these by yourself or with someone else. These activities are a fantastic way to stay safe and still have fun!
4. Check Your Medications
Double-checking the side effects of any medication you take can be helpful in the summertime. Many medications can have more side effects in the heat. Some of those side effects could be dehydration and increased sensitivity to the sun – which can cause a sunburn or rash and can create unusual heat sensitivity. Reviewing your medications can help you prevent these heat-related health problems.
5. Be Informed
Doing research and knowing the signs of a heat-related health illness can be helpful to yourself and others around you. Knowing the signs and symptoms of a heat stroke is important so you can know when to seek medical attention.
Summertime is a fun time, and it is important to be aware and stay safe in the heat. Contacting your doctor if you have any concerns regarding summer and safety is always a great idea. These months can be hot and humid, but with these five safety tips, you can stay safe, active, and still have a fun summer!