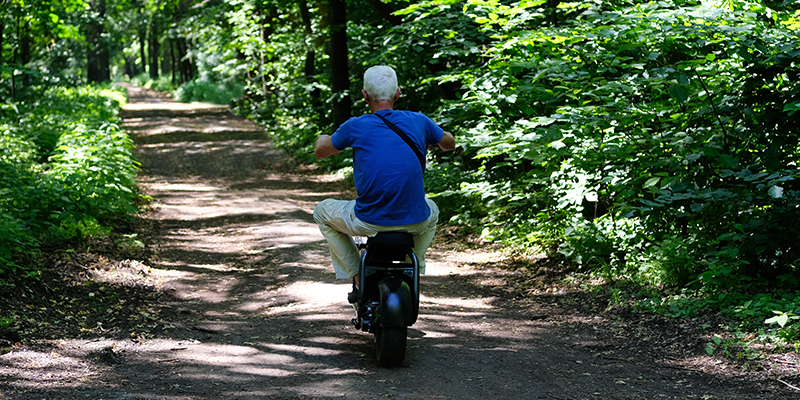 Finding the perfect scooter is a difficult decision because there are so many options with multiple features and specifications for each one. There are three categories of scooters that we offer here at Merrick Surgical: Heavy Duty Scooters, Buzzaround Travel Scooters, and LiteRider Scooters. We are going to share with you our favorite types of scooters and a few features of each category!
Heavy Duty Scooters
One of our favorite types of scooters is the heavy-duty scooter. It is great if you love being outdoors and going on adventures. There are two different options for heavy-duty scooters, the Golden Patriot, and the Avenger. Both scooters have many features and color options! Some of the features include 4-way flashers, 7MPH speeds, adjustable seat height, and outdoor ruggedness. While both heavy-duty scooters have their own unique accents and benefits, they share the outdoor aspect!
Buzzaround Travel Scooters
Another great type of scooter is the Buzzaround Travel scooter. There are six different types of these scooters all with many standard features. One thing that all these scooters have in common is that they easily disassemble with only four steps, making transportation effortless! All six scooters come in two color options, red and blue. There are 3-wheel and 4-wheel options available in the Buzzaround Travel Scooters. If you are looking for a full-size scooter that is still portable and easy to disassemble, this option could be for you!
LiteRider Series
The LiteRider Series is another one of our favorite types of scooters. These scooters are stylish, fun to drive, and easy to transport. The Golden Lite Rider Envy Power Wheelchair is one of the scooters in this category and is now available in 6 different colors including Envy Green and Sunburst Yellow. Some of the features of this scooter include a control panel that is easy to read, two storage baskets, and wireless disassembly. There are 3 different scooter options, all available with unique features! Check out these stylish scooters here!
Which one sounds like a good fit for you? Browse our site to see each scooter we offer and make your selection. Independence is just a click away this summer!