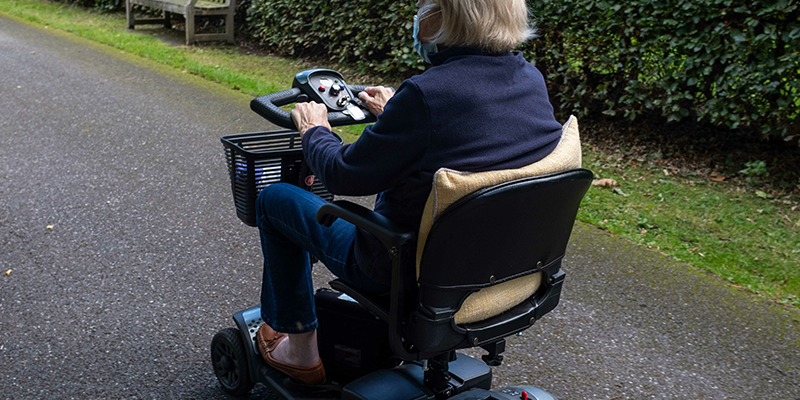 Are you considering purchasing a mobility scooter, but unsure of all the benefits of doing so? Mobility scooters are powered by a rechargeable battery pack and are operated by using handlebars. Mobility scooters come with three- or four-wheel options, all with unique features. It is important to know what features you need to look for and which ones fit your needs and wants best. Continue reading to learn about some of the unique features that mobility scooters offer.
3 or 4 Wheels?
If you are considering a mobility scooter, you may be wondering whether you should get one with three or four wheels. A three-wheel scooter is best if you plan to use it for indoor use or to navigate on smooth surfaces. Three-wheel scooters are also good if you must take many sharp turns indoors. They have a sharp turning radius for narrow spaces. If you are tall, three-wheel scooters are also great for a little extra leg space. Four-wheel scooters are great for people who like a little more stability. They have a more evenly distributed weight, making them more stable. If you are someone who plans to use the scooter for outdoor use on rough terrain, four-wheel scooters are perfect.
Battery Voltage and Ah
The battery voltage is important to consider before purchasing a mobility scooter. Battery voltage is going to determine how much power the battery can supply to the scooter. "Ah" stands for a battery's amp-hour rating. A battery with a higher Ah will last longer. Smaller scooters have less Ah while larger scooters that have more to carry will need more Ah.
Seats
The seat is one of the most important things to think about. You are going to be seated on this scooter for extended periods. Having an uncomfortable seat on your scooter will make the ride less enjoyable. Most seats can be easily adjusted to the user or in some cases some will come with multiple seat options. Make sure you find the one that is the perfect fit for you.
Lights and Mirrors
Are you someone who plans to ride your scooter on the sidewalk or even the roads? If so, it may be important to consider a scooter with built-in lights and mirrors. These features are important to have on your scooter so you can ensure your safety on the road and adequately see the road behind and in front of you during the day and night.
Here at Merrick Surgical, we carry three-wheel scooters, four-wheel scooters, scooters with lights and more. We offer brands such as Golden Technologies, Buzzaround Travel Scooters, LiteRider Series and Companion Scooters. Call today if you have any questions about which scooter would work best for you!