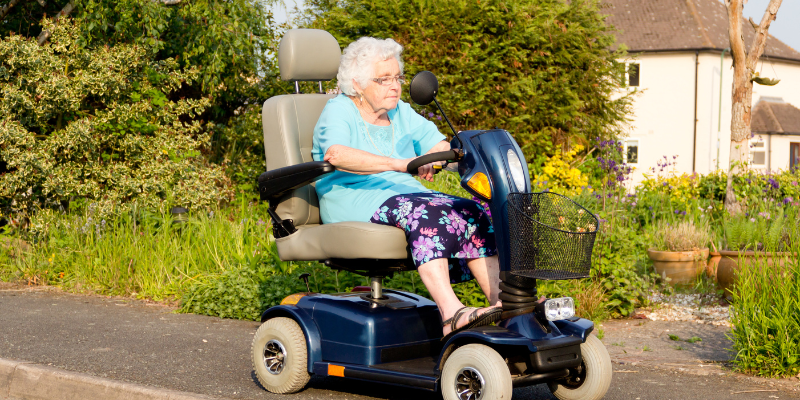 Limited mobility can be caused by many different factors including aging, injury, and illness. Deciding to utilize a mobility device in your everyday life can help you gain back your independence, increase your confidence, and your overall safety! Because a mobility device can influence your everyday life, it is important to find the right one for you. In this blog, we will share with you a few helpful tips that you can use when choosing a mobility device.
Canes
A cane is a great mobility device option if you are looking for extra balance and stability. It provides extra support and can help take the pressure off your knees, hips, and legs. Here are a few of our cane options:
Quad canes offer the highest level of support out of all the cane options because they have four points that touch the ground. They are a great option for individuals who need extra balance support!
This is one of our single-point cane options and has a variety of handles to choose from, with a single point of support for individuals needing light to moderate balance support.
Walkers
A walker can help ensure that you get around safely and provides more support than a cane. This mobility device is great for individuals that struggle with balance and stability. Here are a few of our options:
This is a great walker option that will help you get wherever you need to go, and three wheeled walkers are maneuverable and lightweight!
This is a four-wheel walker that is great for individuals who need moderate stability and for those who don't need to lean on the walker for support.
A knee walker is great for individuals who have suffered a lower leg injury because it has a platform for you to rest your knee!
Manual Wheelchairs
Manual wheelchairs are maneuverable and can be easily transported. Manual wheelchairs require little to no maintenance and are easy to use. Here are a few of our manual wheelchair options:
This is a foldable and comfortable wheelchair option!
Reclining wheelchairs are great for increasing circulation and providing pressure relief.
Utilizing a mobility device in your everyday life can bring you many benefits, including more independence, safety, and much more! We hope that this blog can help you decide which type of mobility device is right for you, and if you have any further questions about any of our mobility devices, reach out to our team today, we are excited to help you find exactly what you need.