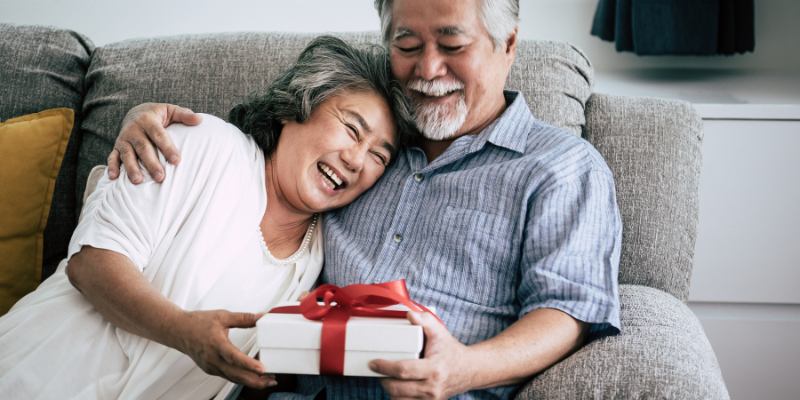 Make this holiday season merry and bright for every senior on your Christmas list. We understand that gift-giving can be tricky so we created this gift guide to help you and your family give your favorite seniors a useful and thoughtful gift they will love!
Find the perfect gift for your favorite seniors:
Photo Album
Choose meaningful photos from the past year, family gatherings, or highlight a major event and add it to a photo album as a gift.
Robe and Slippers
Seniors get cold easily, so a robe and slippers is a wonderful way to keep them warm! Make sure the slippers have a non-slip grip on them to prevent falls.
Gift Basket
Gifting your favorite senior a gift basket full of their favorite snacks and candy is an easy, inexpensive gift that they will love. You could even add their favorite movie as a bonus!
Crafting Items
If your favorite senior loves crafting, this is a great gift idea. You could include yarn, needles, crocheting patterns, paint, or any other crafting materials.
Bundle of Books and Magazines
Get a bundle of good books and magazines as a perfect gift for a senior who loves to read. If they are tech-savvy, you could get them a simple E-reader like a Kindle.
Gift of Time
Spending time with your loved one is one of the best gifts you can give. Take them out to their favorite restaurant or just spend quality time listening to them tell their favorite stories.
Gifts to Simplify Life
Gifting items that will simplify a senior's life can be extremely helpful. These items could include a walker caddy, electric toothbrush, automatic can opener, seat cushion, etc.
Over the years, your loved one's needs change and it can be difficult choosing something to get them for a gift. We hope this gift guide gave you some ideas for gifting for all the seniors in your life.