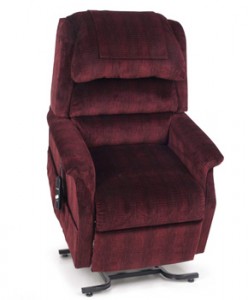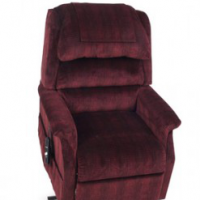 When it's time to relax, the Royal provides full body comfort to help relieve daily stress. Read more or give us a call! View more
MODEL: PR-752
When it's time to relax, the Royal provides full body comfort to help relieve daily stress. This lift/recliner has a slender design and smart style. With its luxurious three-pillow waterfall back and full luxury chaise pad, the Royal will provide endless hours of cloud-like comfort, allowing you to refresh and revive your spirit.
Features
Sleek, Slender Design is Big on Comfort
Luxurious Waterfall Back
Zipper Back, Custom Comfort Pillows
Full Chaise Pad Support for Total Body Comfort
Simple Two Button Control
Easily Raise to a Standing Position
Gently Lower to a Seated Position
Recline for Extra Comfort
"Full Napper" Position
Superior Leg Extension
SmartTek™ Inside – Patented Diagnostic System
Meets California Safety Code: Cal 117
Non-Skid Leg Levelers for Extra Stability and Safety
Easy Access Battery Back-Up System
Best Warranty in Industry
Lifting Capacity: 375 lbs.
Model Number: PR752
* Cashmere, Indigo and Raisin fabrics are standard on PR930 Savannah only.
Sleek, Slender Design is Big on Comfort
Luxurious Waterfall Back
Zipper Back, Custom Comfort Pillows
Full Chaise Pad Support for Total Body Comfort
Simple Two Button Control
Easily Raise to a Standing Position
Gently Lower to a Seated Position
Recline for Extra Comfort
"Full Napper" Position
Superior Leg Extension
SmartTek™ Inside – Patented Diagnostic System
Meets California Safety Code: Cal 117
Non-Skid Leg Levelers for Extra Stability and Safety
Easy Access Battery Back-Up System
Best Warranty in Industry
Lifting Capacity: 375 lbs.
Model Number: PR752
Customers Who Viewed This Item Also Viewed